About the SPSC and the Foundation
With your support, the St. Paul's Sinus Centre can further foster an environment where research and innovation thrive in pursuit of excellence in patient care.  The projects listed below illustrate the commitment to this pursuit. They represent a spectrum of research where basic science investigations translate into clinical practice.
Many of these projects are done in collaboration with investigators at the BC Cancer Research Centre, UBC Department of Pharmacological Sciences, UBC James Hogg Research Centre, and the St. Paul's Hospital Cystic Fibrosis Clinic.
The majority of patients presenting at the SPSC suffer from Chronic Rhinosinusitis (CRS). CRS is characterized by mucosal inflammation of the nose and paranasal sinuses lasting more than 12 weeks. The SPSC research portfolio is largely geared toward improving quality of life and standards of practice for these patients.
Dr. Amin Javer is changing the way sinus surgeries are performed—and patients like Christine Stadler are benefitting
We deeply appreciate your support and recognize that your gift is crucial to St. Paul's Hospital Sinus Centre continuing to provide best-in-class health care, building on years of work.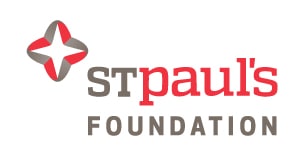 Internationally Renowned Innovation, Leadership and Patient Care
Drs. Amin Javer and Andrew Thamboo have played a pivotal role in transforming the St. Paul's Sinus Centre (SPSC) into a world-class facility where the clinical and surgical realm coexists with academic research and teaching; ensuring patients receive the most up to date treatments.
The Sinus Centre plays a vital role in providing care to patients from all over Western Canada.  This care has benefited from a solid foundation in research at SPSC.  Partnerships and collaborations with the academic world, government and private industry have been built nationally and internationally. Research in the field of Rhinology has also drawn students from across the world to SPSC to produce authoritative research studies. Such students hail from England, Scotland, Singapore, Saudi Arabia, Mexico, Chile, Kuwait, Jamaica, Qatar and Uganda.
Examples of studies that have been conducted over the years include but are not limited to the following
Cytokine Profiling in Chronic rhinosinusitis treated with leptospermum honey study: Using basic science (laboratory) to evaluate clinical samples (biopsies) taken from patients using leptospermum honey treatment and to determine a cytokine profile.
The effect of head position on the distribution of topical nasal medication using the mucosal atomization device (MAD): A Cadaver Study: While using cadaver heads in a medical laboratory, the aim of the study was to determine the proper head position using the MAD syringe.
The effect of reverse trendelenberg position on blood loss in endoscopic sinus surgery: The effect of elevation of the head of the bed during sinus surgery on reduction of blood loss during surgery.
The effect of hot saline irrigation on blood loss in endoscopic sinus surgery: Hot saline irrigation during sinus surgery reduces blood loss and operative time significantly.
For the last ten years, the work of the SPSC has focused on the need to answer clinically relevant questions to better enhance the care of our patients. Over the last three years, the SPSC has developed a research team, which has allowed for the study of Rhinology both in a basic science laboratory as well as in a clinical setting.
Over the next ten years the SPSC aims to work towards facilitating high quality research to further achieve advancements in patient care and surgical treatment.  A focus on personalized medicine will allow for the prediction of patient response to certain medications.  The SPSC also aims to investigate how to predict if children will develop sinus disease when they grow older. Cytokine signatures for patients will allow incredible advances in the treatment of patients.  Such research will include clinical, surgical and epidemiological studies.
For the SPSC to reach its research goals, an experienced research team, laboratory space to analyze samples, materials and supplies as well as small equipment are required.
Cytokine Profiling in Chronic Rhinosinusitis Treated With Leptospermum Honey
Leptospermum (Manuka) Honey (LH) is a natural anti-inflammatory and antimicrobial agent. LH therapy is well supported as an effective wound-healing agent for surgical scars, burns, and ulcers. Recently, LH has been popularized as a treatment for patients with CRS and rhinology centers around the world are beginning to find a niche for LH treatment in their standard practice.
Nasal saline irrigation has been shown to be highly effective in treating CRS symptoms, and a special formulation containing LH is thought to work particularly well in a sub-population of patients with sinus disease. It became a priority at our centre to identify the population of patients that improve the most with LH therapy and to determine how to optimize LH therapy for these patients.
There are very specific markers of inflammation present in each CRS patient. This provides for a unique overall profile of inflammation in each patient. Research into LH has shown that it has a very specific effect on changing the pattern of inflammation in a laboratory model. By studying the impact of LH on inflammation in CRS patients the mechanism by which LH improves CRS symptoms could be revealed. By comparing commonalities in the pattern of inflammation found in CRS patients whose symptoms improve with LH therapy, future patients for this therapy could be specifically target.
CRS patients may be placed on several different medications before they finally get some relief from their symptoms. This is a waste of time and money and represents a great burden to the health care system. By personalizing medical treatment to CRS patients we could create the framework for system that delivers medical therapy much more effectively.
SPSC research in this field, in partnership with investigators at the BC Cancer Research Centre, led to their discovery of a unique cytokine profile for patients who are best suited to LH therapy. It also made important contributions to understanding the impact of LH on local inflammation. These research findings have been presented at major national and international E.N.T. conferences in 2013.
Although the initial studies were focused on developing personalized medicine in the context of LH treatment, this research has great implications for the future of medical treatment for CRS patients.  Now that a framework for investigating personalized medicine has been developed several other CRS therapies can be investigated and optimized. This will represent an ongoing component of research at the Sinus Centre.
The Impact of Budesonide via MAD on the HPA axis in Chronic Rhinosinusitis Patients
Anti-inflammatories (steroids) applied directly to the site of inflammation are commonly used to treat the sinuses of CRS patients. Some rhinology centres prefer to prescribe steroids with a nasal irrigation. The current standard of care at the St. Paul's Sinus Centre is to prescribe budesonide (a corticosteroid) via the Mucosal Atomization Device (MAD) for Chronic Rhinosinusitis (CRS). The MAD is a spray device that delivers steroid through the nostril and into the sinuses as a fine mist. This technique is thought to enhance absorption and increase the amount of drug that is available to treat local inflammation in the sinuses. Compared to steroids irrigated with saline throughout the nose, the MAD delivers a more concentrated dose of the medication to the sinuses. However, while potentially improving the effectiveness of the treatment it is unclear whether increased absorption of budesonide via the MAD is safe.
Long-term use of steroids can have negative side effects on the body. Of particular concern is the effect of steroids on the body's ability to produce hormones such as cortisol. Cortisol is produced by the adrenal gland and is responsible for many life-sustaining functions in the body. When foreign steroids are introduced into the blood circulation they can sometimes decrease the amount of cortisol normally produced by the body. This side effect can be transient or long-lasting depending on the exposure period and potency of the steroid treatment.
The objective of this study was to determine whether budesonide delivered by the MAD affects adrenal function. The safety of this device was investigated by monitoring the levels of cortisol and budesonide present in blood samples taken from patients taking budesonide via the MAD. Their results were compared to patients taking budesonide via saline irrigation. Analysis was conducted using highly sensitive techniques for detection of hormones in patient blood samples. This was made possible by collaboration with investigators at the UBC Department of Pharmaceutical Sciences. A special method was developed for quantifying both budesonide and cortisol in the blood at very low levels for this study. This novel method has been submitted for publication and was presented at an international conference in Singapore in February 2013.
Although this study is still running, interim data suggests that the MAD is a safe and effective device for administering budesonide. Presentation of these findings will take place at a major international conference that is taking place in Vancouver in September 2013.
Patient safety is a top priority and as such it is pertinent that any new drug delivery device undergoes strenuous safety assessment in addition to efficacy studies. Future research will continue to be built with the appropriate safety oversight in mind. The necessary foundation has been built and the collaborations have been formed to continue assessing the safety of novel devices and drugs.
The Effect of Head Position via the Mucosal Atomization Device for the Distribution of Topical Medication on the Paranasal Sinuses: A Prospective Randomized Controlled Cadaver Study
The Mucosal Atomization Device (MAD) distributes medication throughout the paranasal sinuses for patients with chronic rhinosinusitis (CRS). Determining the optimal head position is important to ensure maximal delivery of medication to the sinus cavities. Patients who are able to effectively treat their sinuses with steroids at home typically require less frequent follow-up in clinic.
The objective with this study was to determine the effect of the Lateral-Head-Back (LHB) and Head-Down and Forward (HDF) position, on the distribution of topical nasal medication via MAD in cadaver specimens.
The SPSC was able to demonstrate that the LHB position produced profoundly superior patterns of distribution compared to the HDF position. These findings were presented at a major international conference in April 2013. Since establishing a methodology for testing medication distribution in a cadaver model we have opened the doors to do several more efficacy studies. Often it is difficult to determine drug distribution in a live human model, and cadavers allow us to appreciate the effectiveness of drug distribution systems in a controlled environment.
A Pilot, Open-label Study to Assess the Safety and Performance of a Maxillary Sinus Ostium Self-Dilation Device
The maxillary sinus ostium (MSO) is commonly obstructed in patients suffering from Chronic Rhinosinusitis (CRS) and surgery may be required to reestablish drainage of mucin and airflow through the sinuses. Recently, a novel expansion device (Sinusys) has been developed to expand the maxillary sinus opening without undergoing surgery. This device has demonstrated safety and successful dilation of sinonasal ostia in an ovine model.
The SPSC was able to demonstrate that placement of a novel osmotic self-dilating expansion device in human maxillary sinus opening is safe, achievable and effective. These findings were presented at international conferences in Orlando, FL and Nice, France in 2013.
As rhinology trends towards office-based treatment, studies of this nature are increasing in importance. With waitlists for surgery growing longer, devices similar to Sinusys provide an immediate option to provide patients suffering from sinus disease with symptom relief in the absence of surgery.
What is the Effect of Sinus Disease on the Quality of Life and Lung Function in Adult CF Patients?
The Sinus Centre is a tertiary rhinology centre where special patient populations requiring higher levels of care are often referred for treatment. Patients with Cystic Fibrosis commonly suffer from concomitant chronic rhinosinusitis (CRS) and this greatly impacts their quality of life. Since life expectancy for CF patients has increased greatly over the years owing to the development of effective CF therapies, improving quality of life has now become a priority for these patients.
The SPSC is in the developmental stages of setting up a database for all the CF patients being seen at the Sinus Centre and the SPH Cystic Fibrosis clinic. As sinus disease and lung disease often present together it is important that an emphasis be placed on collaboration between rhinologists and respirologists for this special population. This database aims to assess the impact of CRS on quality of life for these patients, beyond their baseline symptoms related to cystic fibrosis. If specific factors that contribute to the severity of sinus disease in CF patients can be identified, better treatment strategies to alleviate their symptoms can be developed.