Image guided sinus surgery, also known as computer assisted sinus surgery or CASS, refers to the use of an image guidance system that has the ability to track an instrument in real time within the confines of a surgical field. Such a system was first introduced and developed by IGS technologies in Canada in the late 1980s.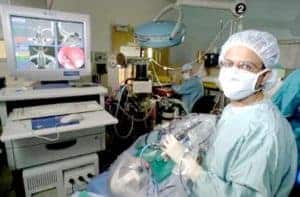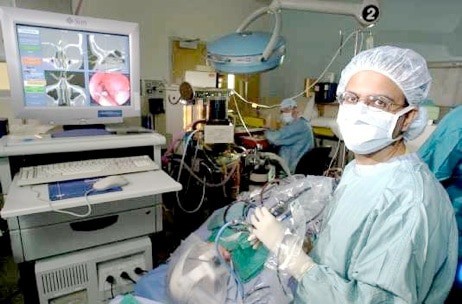 Dr. Amin Javer performing Image Guided Sinus Surgery (CASS).
Visualization Technologies Incorporated of Boston, MA first introduced the more user friendly, wand-less electromagnetic system in 1994. The other technology available to carry out image guidance is based on an optical system that requires infrared light emitting diodes on instruments tracked by cameras attached to a computer base. Both technologies allow instrument location accuracy of less than 1.0 mm in real time during surgery. Since the sinuses are located in a highly confined area between the eyes and beneath the cribriform plate (brain), such technology is helpful not only in avoiding complications during sinus surgery, but in allowing more complete surgery resulting in a significant improvement in the overall cure rate. It has also allowed sinus and skull base surgeons to forge into previously uncharted territory to remove orbital and frontal lobe/skull base lesions using an endoscopic transnasal route compared to the traditional highly morbid open method.
During the first year of its use at the St. Paul's Sinus Centre, a total of 16 skull base and sinus tumours were removed endoscopically through the nostrils without making an incision on the face. Such operations in the past would have required an "open" approach, i.e., the patient would be left with a large facial scar and require longer in hospital stay as well as increased recovery times. Our results on the first 16 tumour patients will be presented at the Canadian Society of Otolaryngology meeting to be held in Ottawa in the spring of 2002.
The CASS system at St. Paul's was purchased with generous donations from our patients and friends. Currently the CASS system is used routinely at the St. Paul's Sinus Centre for revision and primary sinus surgery with an overall cure rate of greater than 95%.